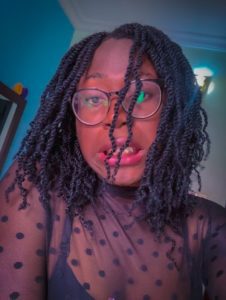 By Tiwatope Adunni
In 2019 I was at one of my lowest after surviving a motorcycle accident which left me with a fractured limb, and hospitalized for 6 months. This period can be considered a phase of awakening because I had nothing else to do but read and reflect.
Shortly after my recovery came the unfortunate incident with the Nigerian police. I was unlawfully harassed, detained and extorted because I was a non-binary feminine of centre person. A month later, my partner of 4years called off the relationship, he was afraid I was high risk and bait for police extortion and attention.
Then came another traumatic period with members of my extended family, some of whom threatened to kill me. I was saved by my great-grandmother, who took me away from this unsafe situation. Now, my grandmother has always been supportive, she in fact raised me, and believed I am the reincarnation of a daughter that she lost when she was a young mother.
It was during this period that it became clear I wouldn't survive through my identity and I had nowhere to run to. I had two options to either live or die.
In January 2020, I decided to live, and the only means I could live was to agree with and face my reality as a transgender woman and this led to my medical transitioning.
Before my medical transitioning, I only knew what it means to be a non-binary feminine of centre person who lived 21years of their life in an androgynous body, having to struggle daily with questions from both intimates and strangers about my gender identity and expression. The societal construct of what a man should be and what makes a woman, and also having to publicly carry the shame of my gestures, identification, behavioural and gender expression.
However, in my 3rd month of medical transitioning, I started to realize who a Nigerian woman is and what a Nigerian woman should be.
Nigerian women, what kind of women are we?
An average Nigerian woman's idea of femininity is rooted in the ideological alignment of patriarchy and heteronormativity which unfortunately is the definition of "ideal woman" in a main-stream (men-owned) society. In the Nigeria of today, women are perceived to be second class citizens with little to no significant representation compared to men, and with forcefully ascribed provision of free domestic labour and motherhood duties backed up by social institutions and morality that strongly prioritizes 'man-hood'.
The socialization of the girl in Nigeria is characterized by fragile femininity, subordination, dependency, prioritizing the male identified body. Most Nigerian girls indoctrinated into this oppressive system grow into women who are upholders of the system suiting the patriarchal satisfaction of what a woman should be and women who set to challenge this patriarchal order are harassed, dehumanized, molested and often criminalized.
Toxic masculinity and femininity, the offshoot of misogyny and transphobia
Toxic masculinity is the foundation of toxic femininity that birthed transphobia. In Nigeria, men are programmed to be measured, dominant and violent through which control the society, while women are programmed to be subordinate irrespective of who or what she thinks she is, she is forcefully pressured and gaslighted to be accountable to a man.
Societal norms and values are dictated by men and any form of opposition to their dominant ideology is considered a threat to society.
Toxic masculinity is the enforcement of dominant masculinity that uphold the reinforcement of patriarchal ideology as a tool for gender policing and misogyny. This means that your masculinity is toxic when you violently make your 'Maness' (gender) the criteria for your being by creating an institutionalized behavioural attitude and distinctive features of what a man should be. The patriarchal ideology positions what it is to be a "man" by creating gender scripts as traits that reinstate the dominant features of a man. Toxic masculinity is a tool of oppression in a patriarchal and heteronormative state like Nigeria.
Over time unending violence, harassment, exploitation and marginalization experienced by women has forced most Nigerian women into strongly believing the notion of their oppressors and not only do they believe and absorb the unending violence, but women are also used as bait tools of oppression on other women who are not in construct with the features of womanhood in a patriarchal/heteronormative society. This set of women are the dominant women "hegemonic femininity".
Hegemonic femininity consists of characteristics defined as womanly that establish and legitimate a hierarchical and complementary relationship to hegemonic masculinity and that, by doing so, guarantee the dominant position of men and subordination of women. (Schippers, 2007: 94).
This simply refers to women who uphold the legitimacy of patriarchy and misogynistic rhetoric to instil fear in other women. A typical example would be a light-skinned woman, heterosexual, gentle, obedient, a 'good cook' morally virtuous, able to have kids, and able to stay at home to take care of her husband and children in order words "wife material".
However, toxic femininity is the influential act of gender policing other women to act in accordance to the woman script, heteronormativity that deifies patriarchal power. It is an integral weapon of transphobia, it normalizes the patriarchal notion of CIS genderism, heteronormativity and so gender policing any person that does not fit into the binary.
Your femininity is toxic when you put the validation of humanness and femininity to the test in the hands of men who are ascribed as superiors. In today's Nigeria, you are nothing if you are dark-skinned, poor, disabled and a WOMAN.
Femininity in Nigeria at the present date is still deemed as less to masculinity. As a result of the unequal gender binary constructed by the state, women are stereotypically perceived as weak, hypersexual, subhuman and objectified as subservient to men. It is believed that women are incapable to be women when they are not at par with the gender script roles instilled in them by the malestream system. The gender roles of a woman in Nigeria are dictated by men just so women can remain incapable, lesser and weak and not be compared to men who are 'strong'. The patriarchal tool of oppression has kept women in a cocoon that is in turn giving men more power, recognition and dominance leading to continual gender inequality.
'MISOGYNY in the cis-heteronormative binary is a way to measure masculine power'.
As an indigenous Nigerian transgender woman that is living her reality, my experiences with transmisogyny is usually deliberate act/actions from people towards me make me feel less of myself and less of a "woman" such as misgendering with pronouns, hypersexualized because I am a transgender woman in Nigeria whose identity is only determined by my genitalia and an uncommon fantasy that CIS heterosexual men and women want to explore, I experienced deliberate molestation, abuse, gender and body policing by random Nigerians and a lot more that makes question my safety in both public and private spaces.
We cannot fail to acknowledge the presence of transmisogyny in the LGBTQI+ community as trans and femme bodies are isolated from the benefit of this union.
This was originally published on 9jafeminista.wordpress.com and written by Tiwatope Adunni